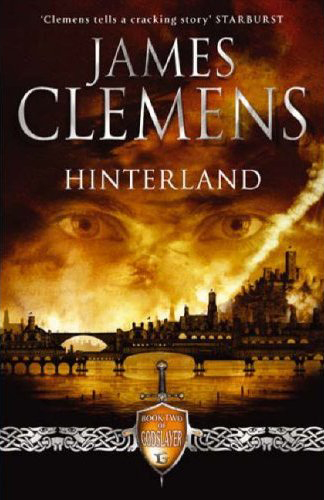 Hinterland
Godslayer Chronicles - Book II
Following a Battle of Myrrwood, darkness again stirs, and all of Myrillia is held in the grip of unease. Far to the south, an ominous artifact is found: a skull, twisted and corrupted by dark Graces. It is the skull of god—and the work of the Cabal, a faction of daemonic naethryn intent on destroying the Nine Lands. But what does it mean? Tylar, former knight and new regent to Chrismferry, must unravel the mystery of the skull before all of Myrillia is threatened. But the Cabal is not the only danger. To mend a growing rift at Tashijan, Tylar returns to the Citadel of the Shadowknights. A mid much pop and ceremony, Tylar regains his knighthood—but it is a trap. Ravening forces out of Ice Eyrie launch a siege against Tashijan, trapping Tylar and the Shadowknights. More terrible is the threat rising out of the bowels of the Citadel—from an order of daemonic knights whose Grace has been corrupted. To save the Nine Lands, Tylar must enter the Hinterland, the desolate territory beyond the blessed lands, where rogue gods roam and dark Graces flow—and from which no Shadowknight has ever returned....
Hinterland
Godslayer Chronicles - Book II
Q&A
Hinterland
Godslayer Chronicles - Book II
Excerpt
Hinterland
Godslayer Chronicles - Book II
Reviews
There are no reviews at this time. Be the first and Submit a Review.